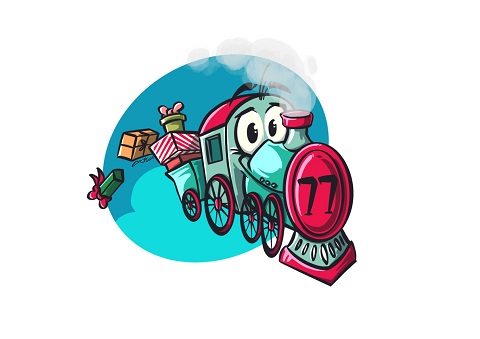 The motif was designed especially for the All In NFT community and can be requested as a freemint via Manifold.
The link to claim is:
https://app.manifold.xyz/c/train77

The Kritzelheldin and All In NFT would be happy if you follow them on Instagram and/or Twitter.
Anja aka Kritzelheldin and our MOD @samu3ai are on web 3.0 as a "team" and are building the branding "Kritzelheldin" together.
Anja came to us in the All In Community via @samu3ai and can be found there in Discord under the Project Holder section.
Ever since she could hold a pen, Anja has loved to draw a lot and so it was obvious that she found her way into the agency and publishing world as a graphic designer and illustrator. For over 15 years now, things have been colourful at the Kritzelheldin.
As Samurai has been in the NFT space since late 2021 and is one of the biggest fans of the doodle heroine's comic art, it was a quick and easy decision that her images would also be represented on the blockchain.
Metaverse Cat launched in October 2022 and now Team Kritzelheldin is working on a collection about the adventures of FatCat and HotDog. More info to follow.
As a special service, the Kritzelheldin offers the possibility to draw a comic portrait of your pet on request. Your pet – her style!
Thank you for the support and assistance of the All In NFT community members!